Christmas is not a holiday here so I was hoping to spend Christmas in a quiet sort of way. On Christmas eve, Xinyi and I didn't do much but lounged in our hotel rooms until it was dinner time. (Check out the things that we
did
since we got to Casablanca).
Our Christmas eve dinner was Japanese food. Turkey and stuffed meat, foods that are traditionally associated with Christmas, are pretty usual fare in the Maghrebian diet anyway. Moreover, I had a craving for Japanese food.
Kiyotori, one of the two Japanese restaurants in Casablanca, not far from our hotel was our choice. Other than sounding Japanese, Kiyotori does not have any meaning in Japanese. It was also not easy to find the restaurant because it was located in the middle of a inconspicuous and deserted alley. Ridiculous name and location aside, Kiyotori is really a popular restaurant with the hip and up-market crowd because of its pricey exotic fare and lush interior design.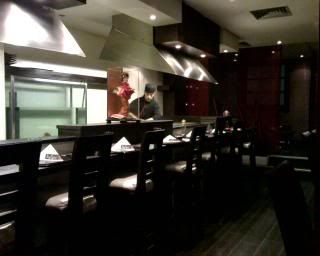 The menu items @ Kiyotori are the usual culprits on a typical Japanese restaurant menu like teppanyaki, sushi, tenpura, kushiyaki (skewered meat) and sashimi. The missing items are donburi (rice bowls), udon and ramen because perhaps they don't cater to the local tastes. For novelty, the restaurant does have specialty sushi rolls with rather interesting names like dragon roll and anaconda roll.